Hello all :)
No, I don't have anything to post. I have created a few things, but I forgot to take pictures before giving them away. Silly me!
Anyway, I stumbled across this blog that is doing a series on the best in baby scrapbooking.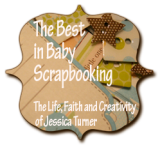 So, I think I'll follow along and see if I can get some inspiration. I really like the first post about the mini-book with the tags. I've seen these tags and thought about getting them. I probably will, but who knows when :) Andrew is 7 months old now and I haven't scrapped a thing! Oh, so much to do!