I'm all set for Mother's Day! Thanks to
Danielle Young
over at Oscraps :)
She has a lovely new kit,
Muffins for Mom:

Looking forward to using that ... but the cool thing is that not only is it on sale for 42% off right now, you get this wonderful
card kit for FREE
when you purchase the page kit!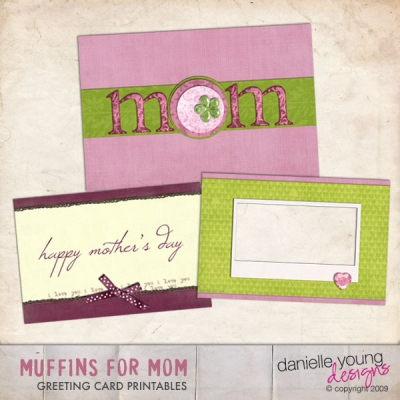 These cards are an awesome idea for Mother's Day!!!
Since I'm a photo person ... and my family has come to expect that of me ... the only one that really fits for me is the one with a frame. So, I made the same card for all of my important Mother's Day recipients.
Here's the one for Kevin's mother:
The picture is when they were down from Maine - visiting for a few days because of Andrew's Baby Dedication.
This one is for my Mom and my Grandma:
This picture was taken on Easter Sunday.
I could just send the 4x6 files to a photo shop ... but I'm going to test out our new photo printer!
So, if you're looking for a unique gift for Mom ... give this a try!
*~*~*